5月25日(日曜)に約100名のカメラマンが集まるサミットがあるんだけど、そのイベントに僕も参加します。
今回は映像で見せる写真がテーマらしくて、僕はちょうど自分のスライドーのDVDがあるのでそれを見せます。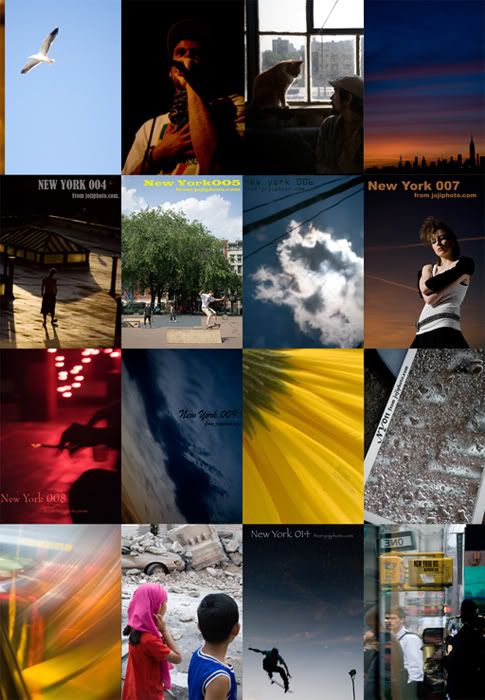 この写真はDVDの表紙、中身はNew yorkに住んでいた頃、一週間に一冊、本を作っていてその24週分を編集したスライドーショーだ。
表紙は16週分のカバーコレクション。この表紙作った時、狙ってないのに並べてみたらうまい事、色とか被写体のバランスがよかった。
やっぱり気持ち込めて作っていたから、そういうことになっていくのだろう。
【場所】アップリンクファクトリー
【問い合わせ&予約受付】tel.03-6825-5502
【住所】東京都渋谷区宇田川町37-18 トツネビル1F
【日時】2008年5月25日(日) 18:30開場/19:00開演 22:00終了予定
【参加費】1000円(1ドリンク付)
【定員】70名
uplink web site
25,May 2008
"PHOTOGRAPHERS SUMMIT"
at UPLINK FACTORY(Shibuya)
OPEN 6:30pm START 7pm
END11pm
1,000yen(w/1D)
UPLINK FACTORY WEB SITE
Totsune-Bld 1F. 37-18,Udagawa-cho,Shibuya-ku,Tokyo,JAPAN
TEL 03-6825-5502
Join us to meet creative people and talk about photography.
Everyone welcome, We'll have Slideshows and Presentation.
70-100 proffessional people will come.(ADs,Editors,Stylists,Models and more)
Also welcome to show your photographs on the screen.
Bring 5-10 RGB JPGs (less than 1280px x 720px,1MB)
and your own Portfolio as well.
contact at ash@photo-graffiti.net